How to get a Cheap Car Loan in Canada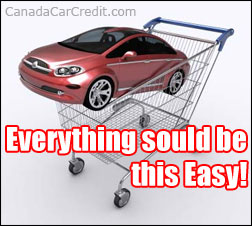 There are lots of banks, car manufacturers, loan companies and financial institutions that want to finance a vehicle for you. If you don't have perfect credit, and they do approve you for a car loan it is usually a High Interest expensive car loan. Our network of Car Dealers are affiliated with ALL lenders and based upon your information, they will know which company will give you the Cheapest Canadian Car Loan.
Sometimes they will get you multiple offers from several lenders as they compete for your business. There are some other factors that can help you get a Cheap Auto Loan.
To increase your credit rating, always keep your payments current to avoid putting a negative mark on your credit score. Be sure to pay your debts on time for a few months prior to applying for a car loan. Usually this rule applies: The higher your credit score is, the lower interest rate you get on your auto loan.

If you can put together a good sized down payment or if you have a trade-in that is worth money; you will borrow less money and the lower your total interest will be. The more money you have saved the smaller the loan you'll need to take. And if you have a vehicle to trade in, this will do the same for you.